New monitoring system gives vital early warning
06 July 2021
An innovative system which will reduce the risk of serious fire and flood damage to properties while also producing significant savings on fuel and maintenance costs is being trialled at Kenwood House.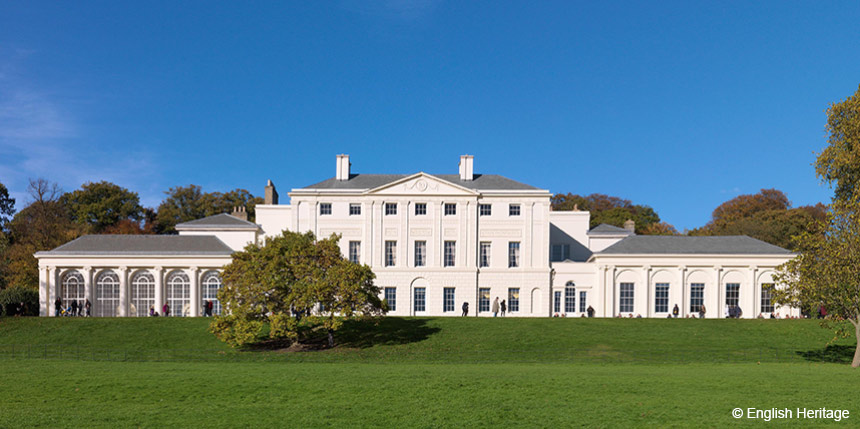 Kenwood House
Grade I listed Kenwood House – built on the edge of Hampstead Heath in London in the 1700s – was the first of ten locations chosen for the trial.
Remodelled by the celebrated neoclassicalist architect Robert Adam between 1764 and 1779, it is home to a world-renowned collection of paintings and sculptures, and is famed for its splendid interiors.
In usual times, it is visited by tens of thousands of people annually and is free to enter all year round.
Protecting the irreplaceable from water and fire damage
The house and its contents are literally irreplaceable, so protecting against catastrophic loss or damage from fire or water is critical.
Until now, the first line of defence has been a combination of reactive fire detection systems and human beings – whether from on-site English Heritage staff noticing an issue after it has arisen, or the problem being identified during an expensive rolling inspection schedule.
Rob Woodside, Estates Director at English Heritage, said, 'Kenwood House is a wonderful, historic property; the big fear with a house of this type is obviously loss through catastrophic fire or flood, but there are also longer term issues involving damp through water ingress, which can cause a lot of damage to historic interiors, and that is something we have seen at Kenwood House and other, similar properties.
'We have always tracked the condition of our properties, but we generally rely on contractors to identify these sorts of issues as part of an ongoing maintenance programme. However rigorous such a programme is it inevitably means that what might originally be a fairly minor problem – a leaking gutter, for instance – can progress into something much worse before it is caught.'
Innovative solution from Ecclesiastical in association with Shepherd
In 2019, Ecclesiastical and tech company Shepherd installed a sophisticated early warning system at Kenwood House.
A network of sensors – which are simple to install and non-invasive in nature – operates 24/7, harvesting millions of bits of data each month as it monitors and detects real-time changes in the humidity and temperature inside the building.
That data is transmitted instantly to the system's hub, where it is converted into actionable insight, allowing for proactive alarms on any concerning developments, such as the heat signature of an electrical issue which might turn into a fire if left unchecked, or elevated moisture indicating a water ingress which could as yet be invisible to the naked eye.
An example of the latter came just a month into the first lockdown, when sensors identified water ingress in a staff room. An alert went out to the on-site Kenwood team, who were able to locate and rectify the leak before it could cause damage to the building or the priceless artworks in the room below.
'The amount of insight the data can give you is incredible, ranging from a very early warning of something that might develop into a really major loss, to much more everyday things.
'For instance, with something as simple as a lift we can see in real time whether the amount of power being drawn to move it between floors is correct, and thus whether it's being used appropriately or is being overloaded. Unnoticed, over time, overloading will eventually lead to a costly breakdown; our system can allow clients to catch the problem as it develops and to act to prevent it. The granularity of the data is really astonishing and extremely useful.'
Many newer buildings employ elements of this kind of technology; the challenge for Ecclesiastical was to retrofit sophisticated modern systems to much older properties.
'Many of the buildings we insure pre-date the invention of electricity, never mind the development of IT, the web, and 21st century sensors,' said Nicholas Hartley, Ecclesiastical's Head of Business Improvement and Innovation. 'They often have very thick walls, which WiFi cannot penetrate. But this system uses a low-power, wide-area network technology which can broadcast data in that sort of environment out to several kilometres in some scenarios.
Significant energy savings made
This is the one of the first times such a system has been employed at such a scale in a building of this age.
As well as protecting against fire and water damage, the sensors are collecting a rich array of data about the day-to-day operation of the house, which has led to other opportunities to make further savings.
'They provide an added insight into the way the building is used,' said Rob Woodside. 'For example, we're not heating or lighting rooms unnecessarily, which means we're not paying for unnecessary electricity or running boilers any longer than we need to. This in turn will extend the life of our boilers, and reduce our maintenance costs as well as our energy consumption and carbon footprint. If extended across the English Heritage estate we could be looking at tens of thousands of pounds in savings in utilities, maintenance and equipment savings, money which would then be available for conservation and operations instead.'
How is the pilot programme going?
COVID-19 has complicated matters slightly – the sensor system was installed in 2019, but because the building has been almost empty of visitors since the pandemic began it has yet to provide enough data on how Kenwood House will react now the public has returned.
For that reason, the pilot has been extended for another year, but Rob is in no doubt that the financial upside is strongly beneficial.
What happens next?
Faith Kitchen, Ecclesiastical Heritage and Education Director, said the trial results had been impressive despite COVID-19.
'We're currently looking at the next phase, which will be a programme where we target the technology at a broader cross-section of customers, such as cathedrals, schools and heritage organisations who will see a real benefit,' she said. 'As the leading insurer of Grade I listed buildings in England, we're passionate about protecting Britain's heritage. As part of our innovation programme we're delighted to be partnering with English Heritage and Shepherd to expand our cutting edge technology pilot. We know that rising energy costs are a major concern and incidents such as electrical fire or escape of water can be disastrous for customers, which is why innovative solutions to detect issues early are so important.'