Mental Health Awareness Week - Loneliness
09 May 2022
Loneliness affects millions of people in the UK every year and is an important contributor to poor mental health, and mental illness.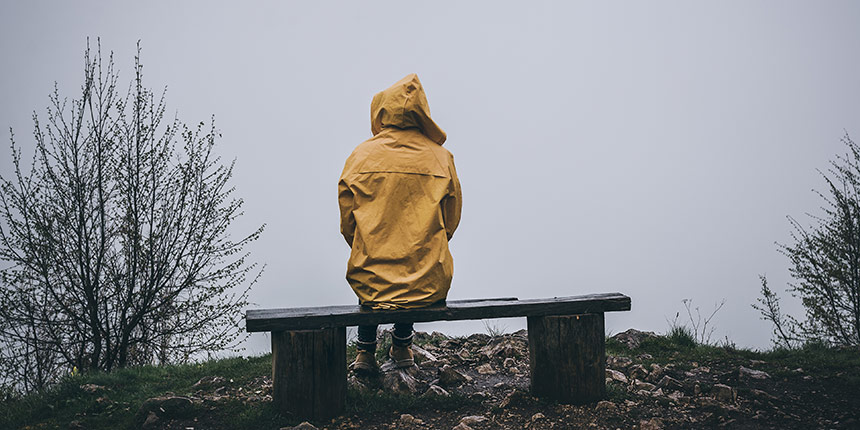 The Mental Health Foundation's 'Mental Health in the Pandemic' research1 has found that loneliness has been exacerbated by the Covid pandemic. The Foundation has been tracking loneliness levels in the UK during the pandemic and has found the experience, for many, has been much more significant - with devastating impact.
Loneliness has been a key driver contributing to increased levels of distress, resulting from people's sense of isolation and the reduced ability to experience connection with others. The Mental Health Foundation's research found that loneliness was one of the leading concerns that the public felt needed to be addressed.
That is why the theme of this year's Mental Health Awareness week is Loneliness.
Mental Health Awareness Week
Here in the UK, 9-15 May 2022 is Mental Health Awareness Week – this is an annual event started by the Mental Health Foundation 21 years ago, to provide an opportunity for the whole of the UK to focus on the importance of good mental health. The theme is different each year and the event is now one of the biggest awareness weeks across the UK and globally.
We will all be seeing lots of awareness raising activity on social media throughout May, which is great - it is important that we keep the conversation around mental health alive, fresh and current. And – it is imperative that this is a year-round conversation because mental health is important to all of us, all of the time.
Mental health is an intrinsic part of who we all are as human beings. Mental health should be seen as a valued resource. Having good mental health means that we are resilient, able to cope with the challenges of life, and able to achieve all that we are capable of.
It is so important that we all take a proactive approach to mental health and wellbeing. There is such value in every one of us prioritising our mental health and wellbeing, in engaging in our own wellness, and building resilience.
Loneliness is different for everyone
Tackling loneliness is an important way that we can improve individual and collective mental health and wellbeing.
Loneliness affects people in many ways and we can help to reduce loneliness, by first understanding why people may experience feelings of loneliness. People experience loneliness for lots of different reasons – and everyone's experience of loneliness will be different.
One common description of loneliness is the feeling we get when our need for connection and relationships is not met. But loneliness does not always equate to being alone.
Some people choose to be alone, living contentedly without much contact with other people, and others may feel isolated if they are alone.
It is quite possible to have a busy social life, be part of a family, or in a relationship or and still feel lonely – especially if you don't feel seen, or heard, or understood by the people around you.
Of course, loneliness isn't a mental health condition – but it is very closely linked to mental health and wellbeing; and experiencing symptoms of mental ill health can increase your chance of feeling lonely. Often, people with mental health conditions will feel lonely and isolated because their condition creates some barriers to connection and communication.
Feeling lonely can have a negative impact on your mental health, especially if feelings of loneliness have lasted a long time. The Mental Health Foundation's research1 suggests that persistent feelings of loneliness can be associated with an increased risk of certain mental health conditions, including depression, anxiety, low self-esteem, sleep problems and increased stress.
How can Ecclesiastical help?
We are working with Mental Health in Business to make available to brokers a variety of mental health related resources, training and education opportunities.
Through this relationship we aim to help to improve mental health and wellbeing and, in line with the theme of Mental Health Awareness Week, to reduce feelings of loneliness and isolation for those that are experiencing symptoms of mental ill health.
Meet Claire Russell
Claire Russell, CEO, Mental Health in Business
Claire worked as a business leader in the insurance industry for over 20 years before moving in to workplace mental health following her own lived experience of mental illness.
Our intention with this content is to offer insight and support on topics that our research has identified as areas of concerns for our brokers. It's important to note we're not medical professionals and if you feel that you or someone you know is in crisis, please seek professional help. The Samaritans can be contacted free of charge on 116 123.
The guidance provided is for information purposes and is general and educational in nature and does not constitute mental health advice. You are free to choose whether or not to use it and it should not be considered a substitute for seeking professional help in specific circumstances. Accordingly, Ecclesiastical and its subsidiaries shall not be liable for any losses, damages, charges or expenses, whether direct, indirect, or consequential and howsoever arising, that you suffer or incur as a result of or in connection with your use or reliance on the information provided except for those which cannot be excluded by law.
We acknowledge that an individual's experience with mental health issues or concerns is unique to that individual. If you have any questions personally or in connection with co-workers, family or friends, we encourage you to contact your General Practitioner or your Employee Assistance Program (EAP) if you have one as part of your benefits plan. Where links are provided to other sites and resources of third parties, these links are provided for your information only. Ecclesiastical is not responsible for the contents of those sites or resources.